What are waitlists?
Waitlists are a queue that you can join, allowing you to wait for a seat to open in a class. If enabled by the department and the class is completely full, you have the option of joining the waitlist. If you are first on the list and a student drops the class, a seat opens up and you will be notified via your Texas State email account that you have 24 hours to register.
How do I know if the course uses waitlists or not?
You can tell whether or not a class has a waitlist available by checking the schedule of classes in Texas State Self-Service. There are three columns that are displayed to help you know what your registration options are:
WL Cap – Total Capacity of the waitlist for the class
WL Act – Actual number of people on the waitlist
WL Rem – How many slots are still available on the waitlist
Note: If there is a zero (0) in the "WL CAP" column, waitlisting is not available for that class.
If there is no waitlist offered for the class, it may be that:
The department of that class did not elect to use the waitlisting feature
You may have a hold on your account preventing registration or signing up for waitlists
The waitlist may be full
You cannot register or waitlist for more than one section of that course
So if I put myself on a waitlist, am I guaranteed a seat?
No. A waitlist is just that, a list of students waiting for a spot to open in a class. Putting yourself on a waitlist does not mean that you will get a seat, as priority is set in order of who signed up for the waitlist first.
How do I join a waitlist?
You can find instructions for how to waitlist for a closed course at the bottom of this page. If you are notified that a seat is available for you via the waitlist, you can find instructions for how to register below as well.
How do I know when I can register for the class?
During registration, if a seat becomes available, you will receive a notification email from the system to your official NetID@txstate.edu email address. It is important that you check your BobcatMail on a regular basis so that you will be able to see if you received this notification. You will have 24 hours from the time the email arrived to register.
What happens if I miss my chance?
If you miss your chance to register for the class for any reason, you can place yourself on the waitlist again. However, you will be added to the bottom of the queue and have to wait for another spot to open.
How do I drop myself from the waitlist?
You are able to drop yourself from a waitlist the same way you would drop from a course you are actually registered for. Log in to Texas State Self-Service and access "Registration/Schedule Changes". After you select the term you are trying to edit, you can use the down arrow box to drop the class and remove yourself from the waitlist.
Waitlist for a Course using Texas State Self-Service 9
Waitlist for a Course using Texas State Self-Service 9
2) Registration Menu
Click on the 'Student' tab and then click 'Registration'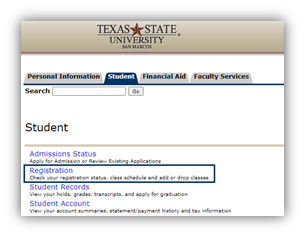 3) Register for Classes
From the launch page, click 'Register for Classes'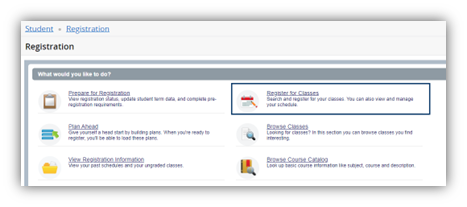 4) Select Term
Select a term from the dropdown and click 'Continue'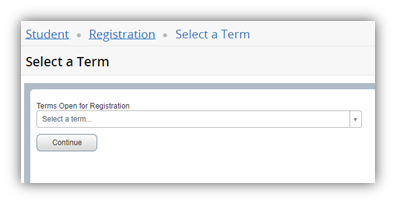 5) Search Criteria
Search for classes using search criteria, the Enter CRNs tab, Plans tab, or Advanced Search for more options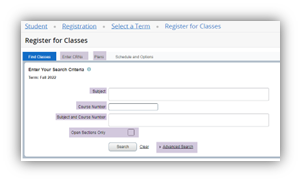 6) Check for Waitlist
A course that is full may show that there are waitlist seats available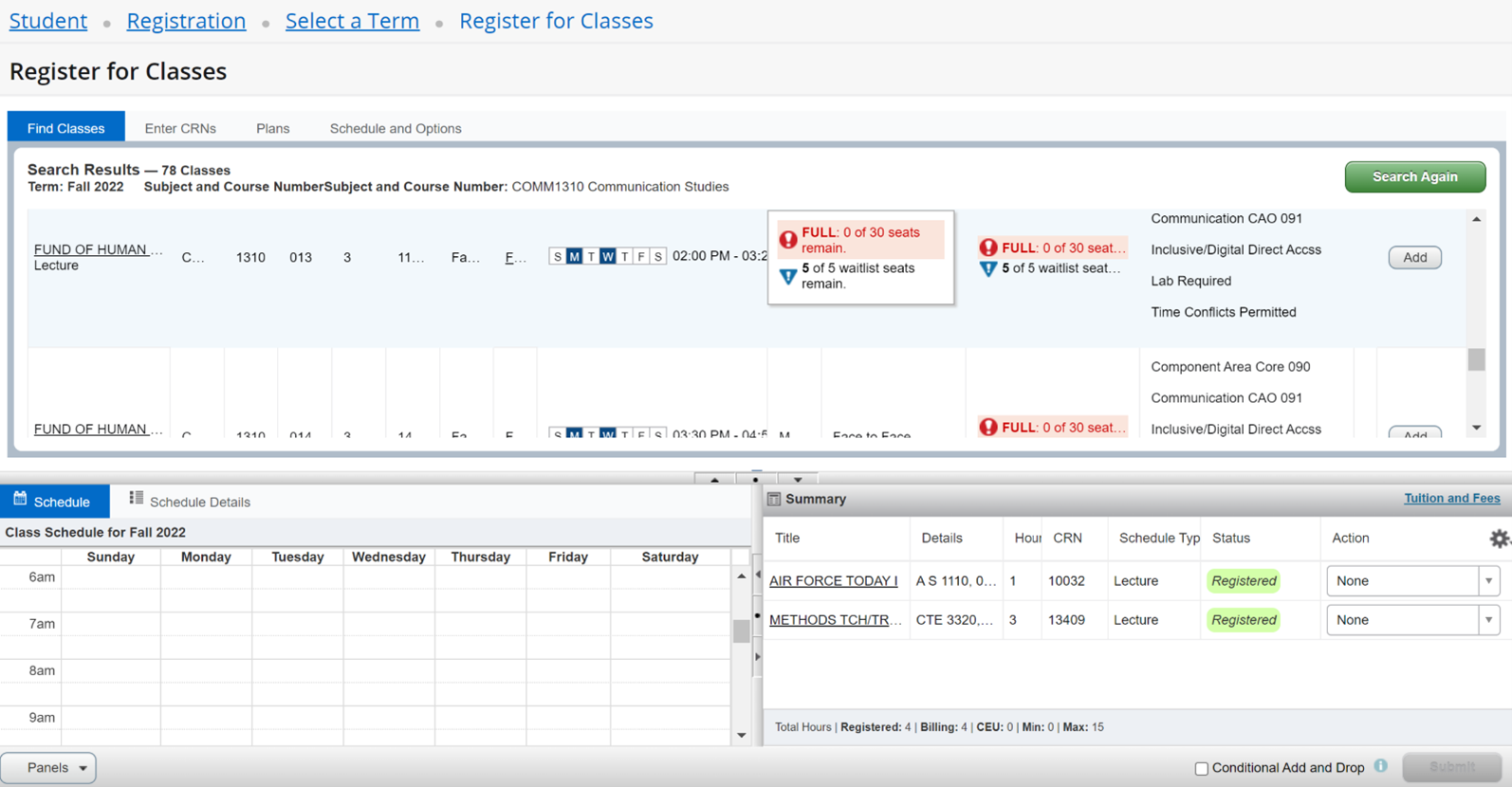 7) Add Course to Summary
Click 'Add' to add it to your summary. Choose 'Wait Listed' from the 'Action' drop-down menu and then click 'Submit'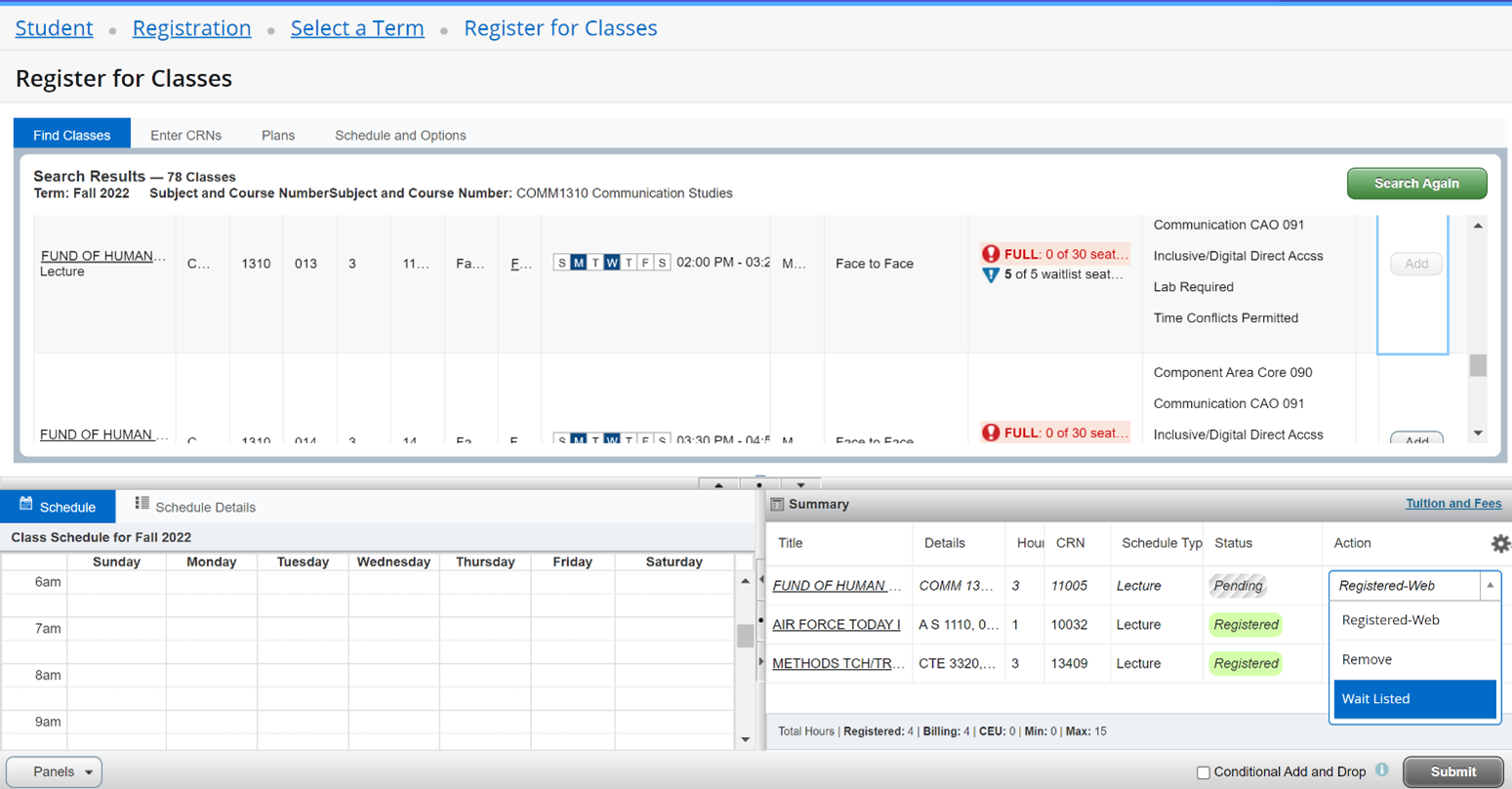 8) Waitlist Confirmation
Your position on the waitlist is confirmed when the status changes to Waitlisted.